Women reveal why they really wear make-up every day.
In recent years, the idea of beauty has become broad and the beauty industry has noticeably shifted its focus to embrace individuality and body positivity.
The façade that once upon a time, managed to convince every girl to conform to Eurocentric beauty standards is slowly collapsing.
The revelation has managed to hindrance the global decorum that formally kept women everywhere slightly insecure about something.
Although, it would be naive to believe that the unwritten tick list of beauty standards has suddenly become redundant.
Is vanity the gatekeeper for narcissism?
Women who wear make-up every day are superheroes and I wish I had the same level of drive, commitment and determination as them. But instead I actively choose to look like a potato most days. In my third year of university, my housemate and I would always leave the house around the same time in the morning. We would both wake up early, but she would spend her time doing her make-up whilst I would read over my lecture notes and eat toast.
Although there isn't anything wrong with either scenario, I often find that women who choose not to wear make-up every day are considered to be making some form of social statement. Especially, because wearing make-up has almost become a mandatory requirement and a bare face somehow equates to putting your middle finger up at the beauty industry?
In an online survey I conducted, women were asked the following questions:
Do you wear make-up every day for work/school/uni/college?

Why do you like wearing make-up? Option 1: it's fun and I want too! Option 2: It helps me feel more put together
There was an equal divide between the first question, but the survey indicated that women who go to work are more likely to wear make-up every day than the girls that are still in full-time education.
55% of the women I asked admitted that they like to wear make-up because it helps them feel more put together.
Furthermore, I asked my housemate who is now a trainee teacher, why she chooses to wear make up every day to work and she said: "It's all about looking professional and polished and giving a good impression. It's almost like having a professional face on for the full time you're there.
"It's nice to have five mins in the morning when you sit and essentially pamper yourself to set yourself up for the day."
I also asked a lawyer why she wore make-up every day and she said: ""It helps me feel less vulnerable when dealing with my difficult clients or Police."
Overall, the consensus of the data indicated that the use of make-up isn't affiliated with vanity the majority of the time. As most women revealed that looking presentable and wearing make-up are often considered to be the same thing.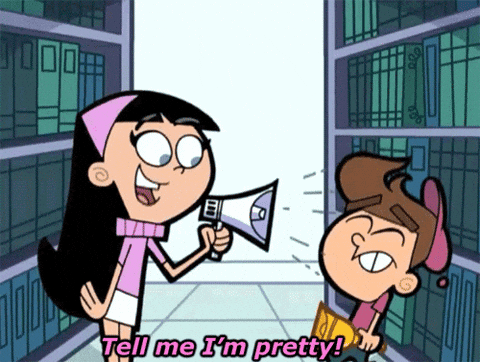 Why are women so keen to put on a full face of make-up just 20 minutes after giving birth?
When Kim Kardashian was pregnant with her daughter North in 2013, she told Kourtney on Keeping up with the Kardashians that she wanted her make-up team present when she gave birth.
In fact, in a survey from The Sun said around 64% of pregnant women prefer to get a spray tan or blow-dry their hair before they're due to go into labour. A further 77% of new mums admitted to putting make-up on just 20 minutes after giving birth.
The study stated that 31% said they wanted to look beautiful in the pictures whilst 26% said they applied their make-up for the visitors.
But why?
On the surface, Kim Kardashian's reasoning may be considered as superficial and narcissistic, when the truth is, most of these women are implementing society's need for them to look beautiful all the time in a real-life scenario.
Do most women feel pressured to look pretty all the time?
When it comes to make-up, most guys think they're supposed to say "I'm sure you don't need make-up anyways' at least once in the conversation. I think this is because the music industry often celebrates natural beauty with songs like; 'Humble' by Kendrick Lamar, 'Just the way you are' by Bruno Mars and 'What makes you beautiful' by One Direction.
But no offence, most boys don't know the difference between no make-up and no make-up make-up, nor can they successfully identify a mascara wand from a make-up bag. So, it's fair to say that most women do not wear make-up for their validation.
I interviewed a beautician called Sharon from Cute Salon in Birmingham and she quite confidently told me that women wear make-up for themselves. She said: "most women see it as a way to express themselves and the beauty industry has always given women more options to experiment with the way they look."
Although, make-up can be perceived as quite fun, I think how you feel about it is quite subjective.
Finally, the advice that I often give the girls I teach dance to is make-up should be used to enhance your already pretty features. It is not something that you use to make yourself look and feel like someone completely different.
You just need to figure out what makes you feel comfortable and go with that in a very unapologetic way, because society hates that.
SONGS:
I'm not gonna lie, I had a mental breakdown and listened to the Shrek playlist whilst writing this, here is the link. You're all welcome.